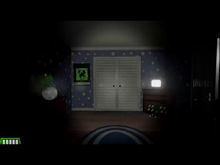 To the left of the closet door, there is a poster depicting a Creeper, a monster from the independent video game Minecraft.
At random intervals during the night, a cymbal-banging monkey toy will crash its cymbals together, creating a loud sound, distracting the player from the Boogeyman's movement.
Sitting on the shelf on the right-hand side of the room, there is a small effigy of Tiny Box Tim, a reference to popular YouTuber Markiplier.
Sitting on the shelf is a board game entitled: " Coryxkenshin, Will He Survive the Night?", another reference to an exceptionally popular Youtuber.
There Is A Bear On The Shelf On The Title Screen, Click Its Nose Ten Times Then A Full Out Orchestra Of Toys Will Play In The Closet.
That same bear could be a reference to Freddy Fazbear, from the game Five nights at Freddy's, wich inspired Boogeyman.
There Is A Tiny Box Tim Toy On The Shelf Next To A Picture of A Realistic Dog.
A Board Game Known As "Code Cracker" Is On The Shelf Where The CoryxKenshin Easter Egg Is, This Is Probably In Reference To The Classic Board Game Called Mastermind.